Stylish Entertaining
Welcome to my blog, A place where I can share my ideas with you. From great tips on entertaining to tasty cocktail recipes that make it all easier for you to host with style in a flash. You'll find lots of projects to inspire you for your home and garden, friends and family. Plus some kitchen gossip, for good measure of course, because everyone needs a little dish now and then.
So visit often!
Mother's Day Brunch and Punch!
 My Huffington Post Feature:
Posted: 05/10/2013 8:48 am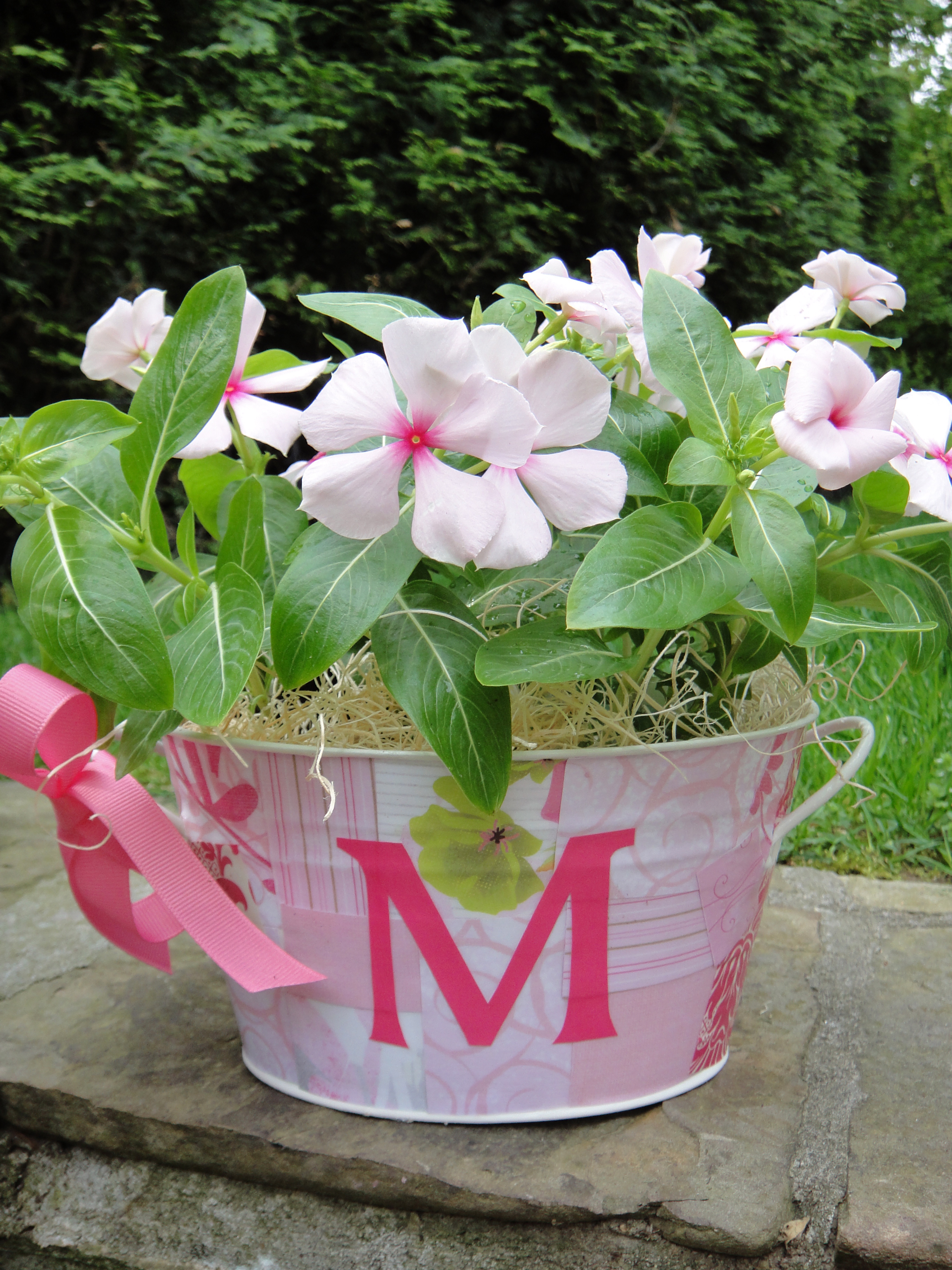 Hosting a last minute gathering for Mother's Day? No problem. Flowers first: pick up a few potted plants for a splash of spring color. I love Martha Washington Geraniums -- they are vibrant and look lovely down the center of the table. Tie handwritten name tags on them and they'll double as gifts for the Moms. Next up, what to serve: My favorite go-to is a French Toast bake. It's rich, filling and looks pretty served from a casserole dish. Pair that with a bowl of fresh berries and mini quiches, (made from mini pie shells, eggs, cream, cheese, onions, peas, and asparagus), and you're almost set. For the finishing touch, make a Sunday Punch. It looks pretty, tastes divine and serves a crowd. What more can you ask for? Oh, and do remember to tell all of the great women in your life how much you love them this Mother's Day. Challah French Toast Bake Serves 10 8 extra-large eggs 1 1/2 cups half-and-half ½ cup milk ½ cup Cointreau 1 tsp. vanilla extract 1 tsp. ground cinnamon Unsalted butter 1 loaf Challah bread Preheat oven to 350 degrees. Butter 9x13 casserole dish. In a large bowl whisk together the eggs, half-and-half, milk, Cointreau, vanilla, and cinnamon. Slice bread into one-inch thick slices, dip bread into batter and arrange in casserole dish. Pour any remaining batter over the bread. Place in oven and bake for 45 minutes until golden brown. Serve with toppings such as maple syrup, raspberry preserves, sifted confectioner's sugar.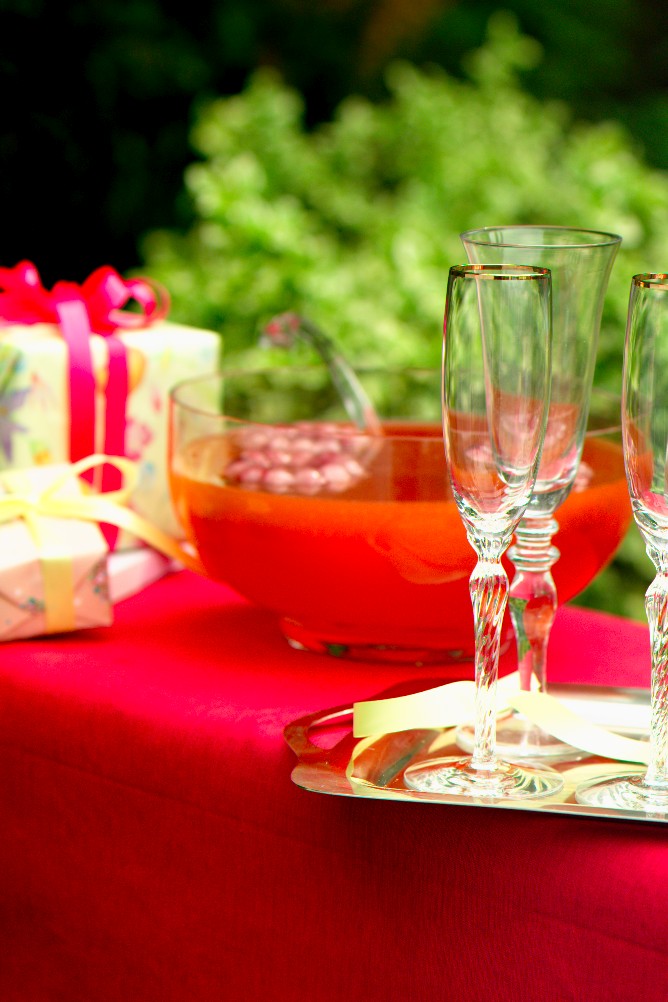 Sunday Punch Serves 8 4 cups raspberry-peach juice 2 cups apricot brandy 2 bottles chilled champagne or prosecco Fresh raspberries for garnish Ice ring with lemon slices and fresh raspberries Make the ice ring the night before, no ring? loaf size baking tins and filled with fruit and water yield smashing results. In a large punch bowl pour the juice and brandy. Slowly add the champagne or prosecco. Add the ice ring and serve.
Take it Outside-Setting up a Chic Outdoor bar
   Featured on iVillage.com:
  Take it Outside: How to Set Up A Chic  Outdoor Bar
Here's how to create the perfect outdoor design for your space
By Colleen Mullaney - April 29, 2013
Photo Credit: Ray Kachatorian/FoodPix/Getty Images
Whether you have a small postage-sized patio, expansive deck, or rolling lawn, setting up a stylish outdoor bar is easier than you think. First, take a good look at your space. Pick a spot that is covered by a big tree or in a corner under an awning or trellis. You can also pick up an inexpensive outdoor canopy from a home improvement store to give you and your guests cover from the sun and summer rain. Bars come in all shapes and sizes. Choose a lighter, rolling cart if it needs to be put away between gatherings. (We're loving brightly colored retro bar carts.) Or go with a larger more permanent fixture if it's protected. Checkout big box stores like Costco or BJ's for stand-alone pieces, which are inexpensive and easy to transport. Seating is key, and can range from fun folding chairs to teak or wicker outdoor chairs and loveseats. Pillows and cushions add a pop of color and also double as extra seating when you have unexpected guests. Lanterns and twinkle lights strung in trees, across patio banisters, and overhead on a canopy or trellis all set the night aglow.
Stocking the Bar:
Buckets, galvanized or plastic, are great filled with ice for soft drinks, wine, and beer. Keep spirits to the basics- vodka, rum, tequila, and gin. Stock a variety of mixers, seltzer, and juices that will keep. Topical fruit nectars like mango, passionfruit, and guava, mixed with a spirit and topped with seltzer, can be an instant hit. Trying mixing abig signature cocktail , set it out in a dispenser and it becomes a self-serve bar. This allows you to mixone big cocktail instead of many so you can mingle and enjoy the party. I've included a few of my summer favorites below. The more colorful, the better. Be sure to have plenty of glasses (good quality plastic) on hand, stock up on bargains from stores like Homegoods and Target. Mix and match for an eclectic look, and have some bowls and small platters on hand as well for snacks and lite bites. Other bar essentials include: ice bucket and tongs, cocktail shaker, fun napkins, bottle openers, and bar towels. Don't forget a trash receptacle, recycling bin, and bug spray. Music is a must so don't forget to create your perfect playlist. Most importantly, mix a cocktail, chill and enjoy.
Slingshot
Adapted from
It's 5 O'clock Somewhere
by Colleen Mullaney, Sixth & Spring publishers.
Serves 8 16 oz. dark rum 12 oz. Apricot brandy 8 oz. Passionfruit juice 8oz. Orange juice 8 oz. Pineapple juice 2 oz. Grenadine Maraschino cherries and pineapple slices for garnish, if desired Combine all ingredients in a pitcher or drinks dispenser filled with ice. Serve.
Nantucket Lemonade
Adapted from
Punch
by Colleen Mullaney, Chronicle publishers.
Serves 12 5 cups lemonade 2 cups cranberry juice 3 tablespoons freshly squeezed lime juice 3 cups vodka 2 cups chilled ginger-ale Frozen cranberries and lemon wheels for garnish if desired Combine lemonade, cranberry juice, lime juice, and vodka in an ice filled drinks dispenser or large pitcher. Just before serving pour in the ginger ale. Garnish with cranberries and lemon wheels if desired, and serve. Need some design inspiration? These picks will motivate you to start staging your perfect outdoor space.
Palmetto All-Weather Wicker Bar Console
, $299 at
PotteryBarn.com
Threshold Conservatory 10' x 10' Gazebo
, $499 at
Target.com
9' Aluminum Patio Umbrella
, $93.99 at
Target.com
Malta Lantern
, $27-$199 at
PotteryBarn.com
Assorted Jonathan Adler Melamine Plates, Bowls and Glasses
, $9-$48 at
JonathanAdler.com
Acrylic Cocktail Swizzle Sticks
, $12.95 at
Pier1.com
Assorted Outdoor Pillows
, $17-$25 at
Pier1.com
Threshold 2-Piece Outdoor Decorative Pillow Set
, $29.98 at
Target.com
Springtime Saturday Cocktails
Colleen's Cocktails...as seen in the fabulous  HuffPo Taste!
Spring Saturday Cocktails
Posted: 04/19/2013 10:24 am
Spring is here! Finally! Time to get out doors and enjoy the sunshine and mix up some Saturday afternoon cocktails. A springtime favorite of mine is the Blackberry Bramble. Light and refreshing, it's just reward for all those Saturday chores. So, put your feet up on that lounge chair you just hosed off, and enjoy. Mix up a batch. These tasty libations are perfect for that Saturday BBQ with friends.
Blackberry Bramble
Adapted from
It's 5'Oclock Somewhere
by Colleen Mullaney, Sixth&Spring publishers (Serves 4) 8 oz. gin 4 oz. blackberry brandy 2 oz. freshly squeezed lemon juice seltzer to top fresh mint sprigs blackberries for garnish In a pitcher place mint sprigs and gin. Muddle the mint releasing the flavor. Add the blackberry brandy, lemon juice, ice and seltzer to top. Stir gently. Pour into glasses, garnish with fresh blackberries and serve.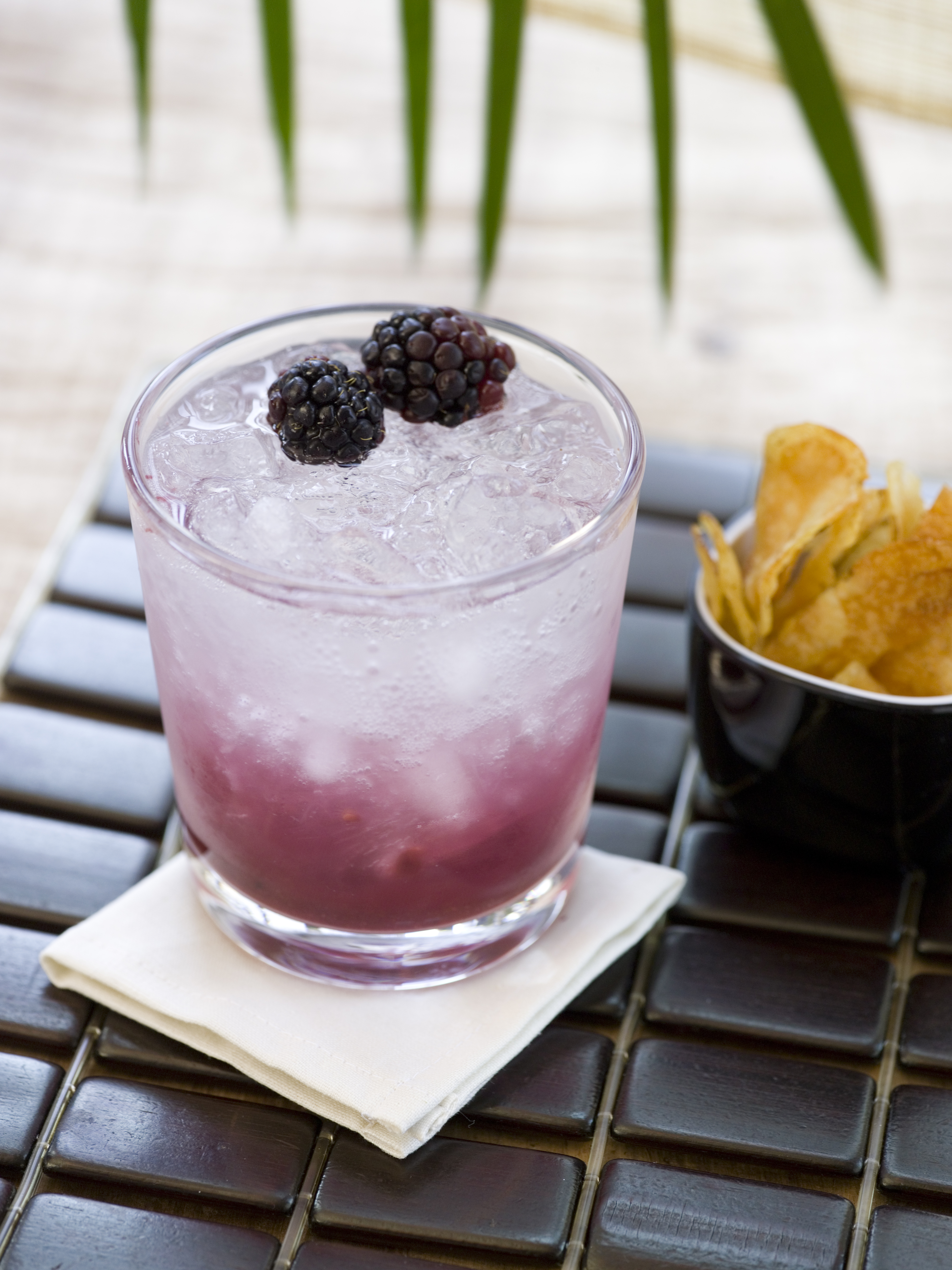 Pages: 1 2 3 4 5 6 7 8 9 10 11 12 13 14 15 16 17 18 19 20 21 22 23 24 (Show All)