Happy Holidays! It's the Most Wonderful time of the year, so lets
get started! First on the list, Decking the Halls…
String the lights, hang the garlands and bows, and fill every empty container with glittery ornaments for instant holiday panache!

add some advent! Tis the Season!
It's Thanksgiving Time! Turkeys have been the longstanding symbol of Thanksgiving for over 300 years! So set a festive menu,create a rustic tablescape, craft up some fun turkey projects for the kids, and whip up a batch of my seasonal cocktails!
There is so much to be thankful for!
              Thanksgiving Cocktails
Posted: 11/20/2013
As we gather around the table with our friends and family this Thanksgiving and share all of the good things in life we are thankful for, serve some tasty cocktails for every generation gathered.
Better by the batch, pitcher-full or punch bowl, especially if the relatives are coming.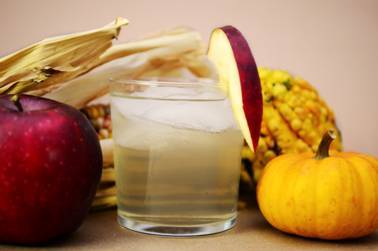 Cider Delighter
Light and refreshing, a perfect start to a holiday full of feasting!
Serves 4
4 oz. Vikingfjord Vodka
2 oz. Allspice Dram liqueur
1oz. freshly squeezed lemon juice
4 oz. sparkling apple cider
dash or two of Baked Apple Bitters
Combine ingredients in a cocktail shaker filled with ice. Strain into ice filled rocks glasses. Garnish with apple slice if desired, and serve.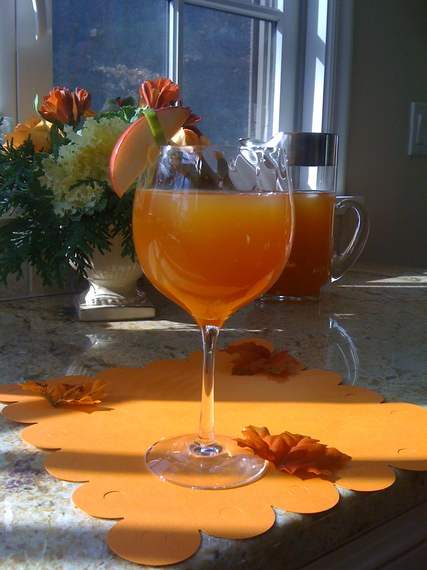 photo by Colleen Mullaney
Appletastic
Tastes like a caramel apple with vanilla and citrus tones, mixing deliciously with tangy sweet apple notes. I make a batch of these just for Uncle Peter.
Serves 4
6 oz. Absolut Vanilla
2 oz. Tuaca liqueur
6 oz. apple cider
1 oz. freshly squeezed lemon juice
Combine all ingredients in a shaker filled with ice. Shake and strain into glasses. Serve. Note: this cocktail is also delicious warm with a dash of cinnamon.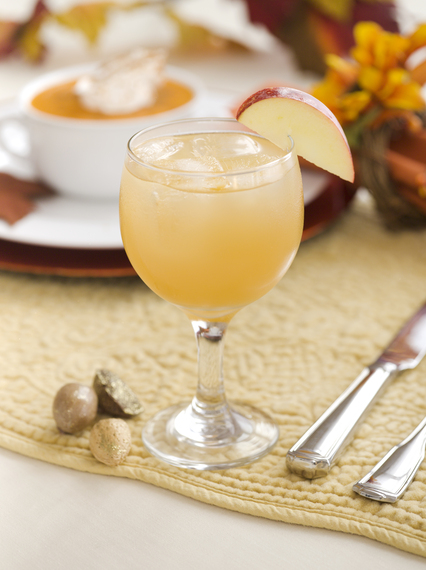 photo by Jack Deutsch
Gingersnap Cocktail
A deliciously sweet and satisfying cocktail evoking the flavors of the season.
Serves 4
4 oz. The King's Ginger (ginger liqueur)
4 oz. Vikingfjord Vodka
1 oz. simple syrup
Dash each, cinnamon, nutmeg, ginger
In a cocktail shaker mix all ingredients together. Strain into glasses. Garnish with gingersnap cookies. Serve.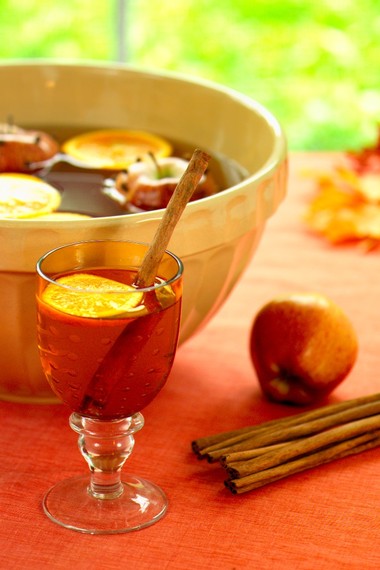 photo by Jack Deutsch
Mulled wine
Perfect for warming up after the annual Thanksgiving football game. Or better yet, bring a thermos-full to the backyard.
Serves 6
1 bottle Chianti such as Villa Cerna
4 oz. Grand Marnier
Juice of 2 fresh clementines
5 Allspice berries
3 Star anise
2 Cinnamon sticks
1 tsp. ground Ginger
1 tsp. Lemon zest
In a medium saucepan combine all ingredients and simmer on low for up to 1 hour. Strain berries, star anise, and cinnamon sticks from pan. To serve: transfer into heat resistant pitcher or ladle from saucepan.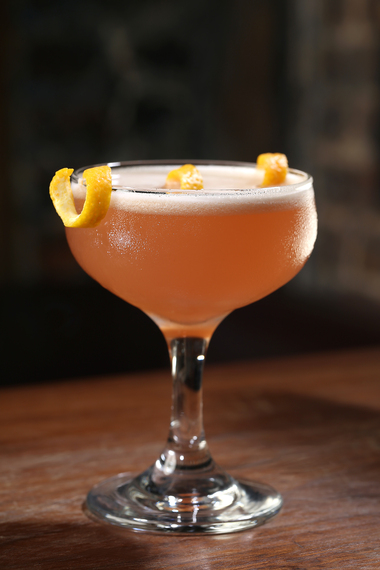 The Loose Goose
Perfect by the fireside visiting with friends far and near. Make a batch or two, I heard Aunt Betty is coming.
Serves 4
8 oz. Wild Turkey whiskey
4 oz. limoncello
8 oz. freshly squeezed orange juice
Dash Orange bitters
In a cocktail shaker filled with ice, mix all ingredients well. Strain into ice filled glasses, garnish with lemon wheel if desired, and serve. Better get Aunt Betty first.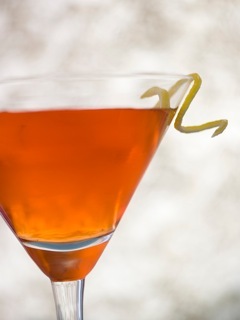 photo by Jack Deutsch
1621
Deep and rich, with cherry and orange mixing with the Pisco. The seltzer adds the perfect light finishing touch.
Serves 4
8 oz. Pisco Portion
4 oz. cherry brandy
2 dashes orange bitters
Orange seltzer to top
Combine first three ingredients in a cocktail shaker filled with ice. Strain into glasses. Top with orange flavored seltzer. Garnish with a cherry and serve.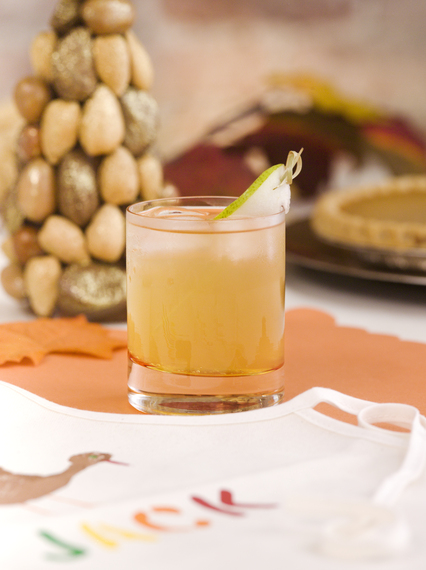 photo by Jack Deutsch
The Standish
The sage-infused simple syrup, while easy to make is the backbone to this festive holiday libation. Try a batch before or after dinner.
Serves 4
8 oz. Tangueray Gin
2 oz. sage-infused simple syrup
8 oz. Lemon-lime soda
In a cocktail shaker filled with ice mix the gin and simple syrup. Strain into ice-filled glasses and top with lemon-lime soda. Serve.
Sage infused simple syrup: In a bowl mix 1 cup simple syrup with 8-10 sage leaves. Place in microwave for 30 seconds. Stir. Cook for 30 seconds more. Take out and let sit for 20-30 minutes. Strain out sage leaves.
Treaty Toast
My friends and relatives always ask if I'll be serving these cocktails over the Thanksgiving holiday. I say, "You must have a celebratory libation to toast the harvest celebration between the Pilgrims and Indians."
Serves 4
1 bottle Veuve Clicquot champagne, chilled
8 oz. pomegranate-cherry juice
4 oz. Grand Marnier
In a small pitcher mix the pomegranate juice and Grand Marnier.
Pour a dash of juice mix into each champagne flute filling each glass approximately 1/3 full. Top with champagne. Garnish with raspberries if desired. Serve.
Coffee Nation
This year I'm adding a bit of coffee mixology to the dessert menu with a coffee liqueur made with tequila blanco. Its distinctive flavor earns a spot at the high table. Have it straight, with cream and nutmeg, or pour it over vanilla gelato.
Serves 2
4 oz. Cabo Diablo
8 oz. Coffee
Dollop of Fresh cream
Sprinkle of nutmeg to top
In coffee glasses pour coffee and Cabo Diablo. Place a large dollop of fresh whipped cream on top of each. Sprinkle nutmeg on top and serve.

Halloween is Here! Have a Spooktacular Time !

Time to Fall~ify!
Fill up your planters with cabbages, ivy, and chili-peppers, and of course mums!
Sprinkle a few pumpkins around the base of the planters, add lanterns up your front steps and Presto! Fall~ifying in a Fall Flash!
September Days…
 
Fall is here! Cool nights, school days, soccer and football! I'm heading to my first tailgate of the season on Saturday, will be loading up with sandwiches, chips and dips and cider for the kids. Perhaps a tailgate toddy for the bigger fans too!
For your tailgating inspiration check out my feature in Huffington Post. Get packing!
Be sure your game day has a crowd pleasing spread. From gear must have's, to cocktails and lawn games, this tailgate has spirit to spare! So, no matter what team you're rooting for, pack up a party that scores with everyone!
Home Field Advantage
Roll-out this clever throw to add a colorful backdrop to your party that is water resistant and warm! Add a team Monogram to boot. Found at Land's End.



Required Seating
If you'll be standing for the game, it's totally on call to have chairs for your tailgate. I love these from Dick's, they come in a rainbow of colors to match your team, are comfortable and are reasonably priced.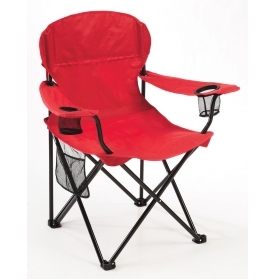 Tight Ends
Keep all your supplies "huddled up" in this handsome picnic basket from Williams-Sonoma. Comes complete with everything you'll need to serve your hungry team in style.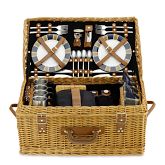 Stacked Up
Good looking, melamine glassware is the definite way to go to serve up in winning style.Williams-Sonoma has a great collection of stemless wine and beer glasses to choose from.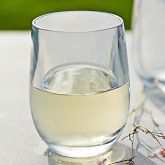 Roadie
Who says you can't bring it with you? Bring the party into the game with these stainless steel Stanley Thermoses and Flask from West Elm.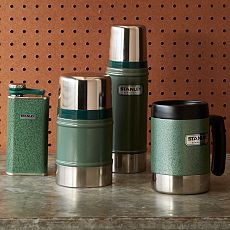 Kick-Off
To get things started there must be Bloody's! For the most divine flavor, get some pre-made mix. Fat and Juicy mix uses only premium ingredients for a touchdown taste with every pour.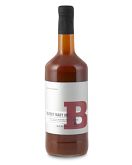 Wine Time
After the bloody's at kick-off it's wine time at halftime! Simi's full bodied whites and smooth pinots are a perfect paring with fall's crisp afternoons.


The Longest Yard
No tailgate is complete without a football and a spirited game of catch. Dick's has a good selection of footballs so you'll be ready for that perfect pass.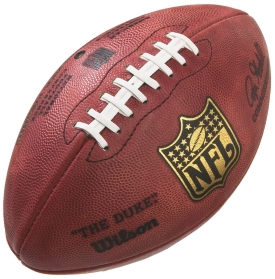 Halftime Frolics
Get everyone in on the action with the hot new game Spike Ball. Easy to assemble, it will keep fans young and old, busy for hours.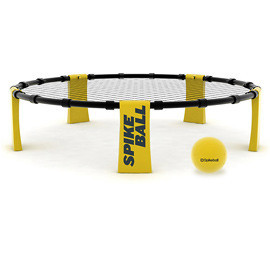 Glorious Newport! We were in town celebrating a wedding of dear friends and found time to rent scooters to tour the fabulous Ocean Drive you know those summer "cottages" of the Astors, Vanderbilts, and Doris Duke, pop-in to Castle Hill, whiz by Salve Regina College( my mom and brother studied –partied–there), enjoy cocktails and yacht gazing at the fab 41 North,Newport's newest Boutique Hotel on the water, and of course shop,( I found the cutest maxi dress at Chance & Lulu)!! And then there was the wedding of Courtney and Mac! We had a welcome party at the Gas Lamp Grille the night before, and for the big day the venue was stunning, Mt. Hope Farm in Bristol on the water, did I say on the water? It was magical. beautiful, festive and fun! The glorious white tent was bedecked with lanterns in pastel hues to go with the massive hydrangeas, lilacs, peonies, and roses that filled every table. We cocktailed on Dark & Stormy's and Nantucket Lemonades in jelly jars, how fitting and fun! Danced the night away, and finished the affair with brownie sundaes, I know, my kids were jealous too!
If you do get up to the beautiful Newport, check out a few of my favorites mentioned above!
 Wishing you a "Life Made Stylish" always.        Cheers!!
| | | | | |
| --- | --- | --- | --- | --- |
| | | | | |